We the Japanese Culture Visit staff members enjoyed a tea ceremony party on 5th of May, 2011.
We rented the beautiful tea rooms at the Shunkaen Bonsai museum in Edogawa-ku,Tokyo.
There, we sat on a waiting bench, purified ourselves at the wash basin, then entered the tea room through a small door called Nijiriguchi, crawling on knees.
We had a delicious Kaiseki box lunch which our colleague, the daughter of the Bonsai museum owner prepared for us. Then we enjoyed a ceremony featuring Koicha,
strong or thick tea followed by one featuring Usucha, weak or thin tea.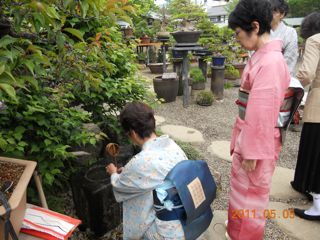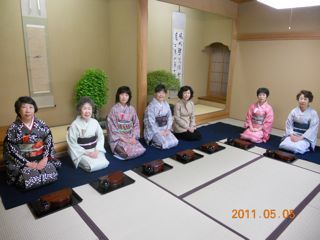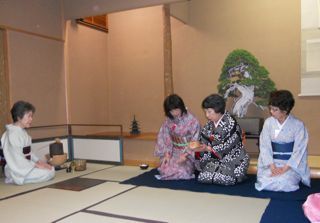 We spent the early summer day with close friends , studying the formal tea ceremony.
The Shunkaen Bonsai museum is our work place.
Usually we present tea ceremony, calligraphy, Ikebana,Japanese flower arrangement, Kimono dressing and so on for foreign visitors at this location.
But on the 5th of May we just enjoyed a leisurely tea ceremony and listened to the apprentices of Mr. Kunio Kobayashi, the owner of the museum speak about Bonsai, miniature of potted trees.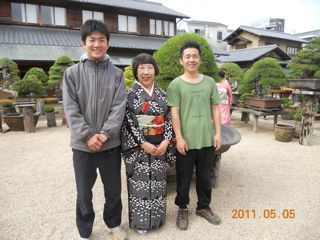 We are anticipating the return of foreign visitors to Tokyo.
The nuclear power station problems have not affected the Tokyo area so we are hopeful that visitors will once again come to Japan and enjoy our cultural offerings.